You just held an event in your town after much ado and planning, and you had a lot of expectations from it. But things didn't work out as you intended. The attendees did not respond as you wanted them to. Instead, they seem to be more interested in their phones, or joking with fellow attendees.
They are barely looking at their speakers, nor do they look animated at what you wanted to present. What happened? Did the attendees lose interest in the event? Or did they just come in to meet each other, and enjoy good meal perhaps? Or maybe just to get away from their own bosses?
The success of any great event is attendee engagement. So how do you go about procuring that? After all, attendee engagement is the backbone of any event and you should be looking for innovative ways to get them interested.
Here are some:</p>
1. Make the app easier to navigate
While you have heard that having a mobile app can promote the event, you should also be able to develop it in such a way that it can improve attendee engagement too. So, you have to make it easier for the users to navigate it. When you make a sensible event app, it is obvious that people will respond to it, refer to it from time to time, and use it during and after the event.
The app should make it easier for the user, they need to get all the information at the click of a button, get the schedules and event tracks so they can easily find what they need, the stages and platforms, etc.
2. Sending push notifications
Push notifications go a long way in aiding attendees find what they need. It is also the best channel to introduce new products, especially when you are launching them at conferences. You can make it a limited-time event, so they will get motivated to check it out. When attendees check the app to know what's next in their schedule, they will be able to see the demos as well. You can put in an emoji or two to make it interactive, friendly. Check the image below, you will know what we are talking about.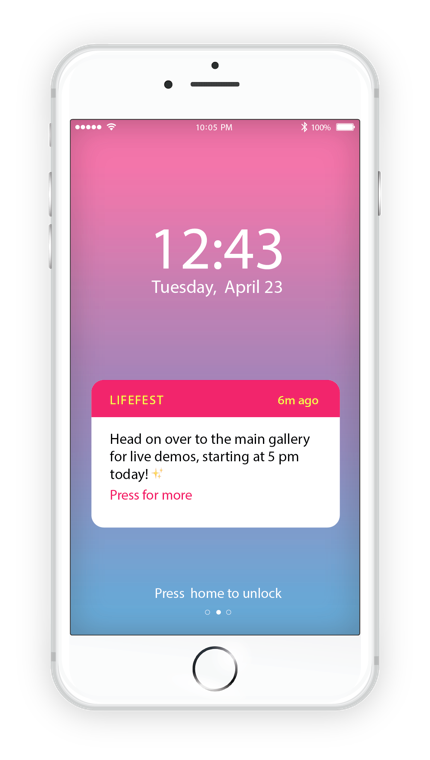 3. Gamification
How about people attending the event out of pure passion and interest? Their inquisitiveness would be your success. So, you need to provide incentives to maximize engagement. You can also hold event competitions, so they will be motivated to stay put throughout the event. Event competitions can include using questions to speakers, visiting sponsor booths and so on. You can even include a section in the app where you can set point values for certain tasks that the attendees can participate in, and the results will be featured in the app's leaderboard. This becomes further interesting when you introduce featured prizes too.
4. People would enjoy having location-based messages sent to them
You can definitely increase attendee engagement on your conference app when you let them in on other interesting events happening nearby. You can send this information as a push notification triggered with the help of a geofence. If the event is related to your own event, then it is going to be even more effective and successful. Or you can check the interests of your attendees, and send them notifications on something relevant and exciting that's happening nearby.
5. Creating a hype on all social networks
Attendees would love it when a buzz is created about the event they are planning to attend. And this would, in turn, drive engagement too. Attendees like to be a part of the event they are attending, so you can make it as interactive as possible, through social media posts, tweets and adding hashtags. Networking not only creates a hype along all the social media channels, but it also serves as an ice-breaker among the attendees too.
6. Live polling option
You can definitely increase speaker engagement by introducing interactive polling or facilitate a Q&A session. Instead of attendees raising their hands and asking questions or giving answers, you can introduce an in-app feature where the attendees can use the corporate event app to vote or give answers. There are a number of live poll plugins that you can use when developing your app, and some of them even let the speakers collect attendee feedback while they make presentations itself. And you can also use the tools to log into your account, so you can view audience feedback as and when they happen.
7. When you have last minute changes
Informing the attendees of any last minute changes during the event will definitely increase engagement. If they are kept in the dark, then they will lose interest in the event, and even when they do attend, their full concentration may not be there as they failed to follow the changes.
8. Incorporating surveys and quizzes
You can definitely increase attendee engagement for your conference app if you incorporate surveys and quizzes within the app. Conducting the surveys will also keep their interest tuned to the topic of discussion at all times. Through quizzes, the speakers can also gauge how much the attendees have grasped the topic, and whether they need to modify their skills and presentation styles. It will also give an insight into future trends in customer behavior, and what people would like to discontinue.
9. Don't forget users who couldn't attend the event
If you conduct events from time to time, you would definitely have attendees who miss a few events. They might want the content of the events in a text or audio form. You can include those in your event app to make it all encompassing to the attendees who may have missed it, or who may want to refer to it later.
Conclusion
So, these are some of the ways in which you can improve attendee engagement, and induce them to participate actively, ask intelligent questions to the speakers, network and build relationships. Just a few careful moves here and there, and you can change it entirely. Also remember to put in the event hashtag whenever you roll out something. The mobile app is the best platform to use this because you can stream this directly in the app. This would definitely increase the reach and engagement, and users can join right in.