EventOrg in Top 20+ Event Management Softwares In 2019
We are very excited to announce that we have been ranked 24 in World's Top 20 Custom Software Development Companies by Softwareworld.co .The rank was given from a list of 160+ event management Apps from around the Globe.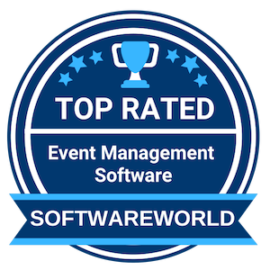 SoftwareWorld is a software review platform that showcases top software solutions suitable for various industries, providing a comprehensive review service by comparing the best software solutions available on the market. The platform creates unbiased lists of the top software solutions by category, helping businesses find the right solution for them.The ranking score was based on user satisfaction (reviews & ratings), social media buzz, online presence, and other relevant information and we are happy that Software World has given us a ranking score of 88 out of 100.
Below is an excerpt from our most recent reviews that was published on Softwareworld.co "Kudos to the team for bringing up such a wonderful app. User experience is just so great. Covers a enormous amount of high quality events and every event displaying each bit of detail about it. Right from speakers to timing everything is there. Holds excellent customer support too. Yet to host my own event yet but looks like even that should be super flexible. Love EventOrg." - Rahul K
"I would like to commend EventOrg for providing an excellent event app for #SGEF2018 attendees to get all the information on their mobile phone. The minimalist interface of the app is ideal for a non-distracted consumption of the information." Vinay K Singh,VP Scoo News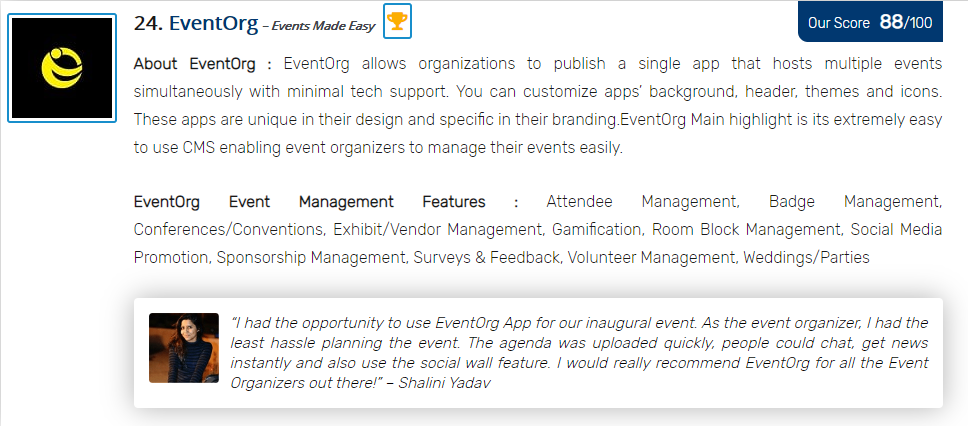 About EventOrg
Event Management Software allows businesses to automate much of the event planning process. EventOrg is one such Event Management Software. EventOrg is a mobile application that makes the whole process of managing events easier and flexible for all event organizers.EventOrg is a customized and user-friendly application that helps users create and manage multiple events easily
Whys Choose EventOrg as your Event Organizing App?
For Attendees : EventOrg enriches the event experience for attendees by giving the most relevant information at their fingertips and increases their engagement at the event.
For Event Planner : Create your Event planning App with minimal technical help and upload and share all relevant information of the event.
If you would like more information about EventOrg App, please email us at sales-team@eventorg.co