How to Measure App Data, Pre and Post Event
Would you like to know the success of your event after it's over or before it even begins? Is that possible? Not before event apps were used. But now, with event apps, you can. And that has changed the way people perceive events.
All the data that comes in is never too much, because no data is too much data. The more you have, the better it is – whether it is for conducting events, or for running your business, or even for knowing your customer.
So, event organizers, while planning their event, will also need a plan to collect data from participants. And interestingly, you have so many different ways to do this. It could include post-event surveys, tracking data from participants while you talk to them impromptu, data collected from the apps, from wearable devices and so on.
Measure success of app data before the event
It so important to know about audience engagement because that can make a huge impact on the event itself and its success. When the app data tells you that you have good audience engagement, you can be assured of tangible ROI. You need to measure audience engagement to know the success of your app and the event itself, because when people actually tell you they like to attend your program, you now have the information in your hand.
Here is a simple sampler leveraging surveys for a successful event:
⁃ How did you hear about the event?
⁃ Which social platform do you prefer?
⁃ What is your opinion regarding the location of the event?
⁃ What are your expectations regarding the event?
⁃ Have you attended an event like this before?
⁃ Which are the speakers that you are looking forward to?
⁃ Are you able to find all the information about our event easily?
⁃ Do you have special dietary concerns?
Armed with these questions, you will definitely have an idea of what the outcome of the event should be. The questions mentioned above are generic; so, if you don't have the sufficient time to ask around before the event, make sure to ask the right ones. If they have any valuable suggestions regarding the event, be sure to include them in the app, so you can incorporate them as well. This is very important for audience engagement.
Be realistic about the goals that you need to realize from the event. Set milestones for this, and have a plan on the methods to achieve them. Specific goals are easier to achieve.
Everyone dreams of conducting a superstar event
A superstar event is when there are high levels of adoption and engagement, leading to impressively high levels of ROI from the event. What are the parameters that you need to have your own superstar event? Is it maximum number of memberships procured after the event? Or are you just looking at total revenue? While measuring success, you need a yardstick so you can compare it. There are tools to measure the data coming from mobile event apps, to make things easier.
If you want to create a superstar event
Everyone dreams of having a superstar event, but only a few achieve it. And to enjoy such an event, you really need to work on Adoption and Engagement. Both these concepts will be discussed later in the article. This is what leads to higher ROI. So, what are the tricks for achieving a superstar event?
Here's what you can do for starters:
· You can include the feature of appointment scheduling. This helps you give attendees, vendors and sponsors the chance to increase engagement, and it thereby increases the value of the event.
· You can include gamification because it has a great deal to do with psychology in attracting user engagement; it works on the motivations and emotions of the attendees.
· Incorporating a password is a good technique because the attendees would welcome the extra layer of security. It will definitely bring in amazing results.
· Adding more event pages will also be helpful in generating user absorption and engagement
· Remember to put in appointment scheduling, so you can give attendees, vendors, sponsors the chance to plan the event in advance. This gives them the chance to perceive the value of your event too.
Measuring success through app data post event
The big day has come and gone, and you need to know how the event has fared, and how people have accepted the event app.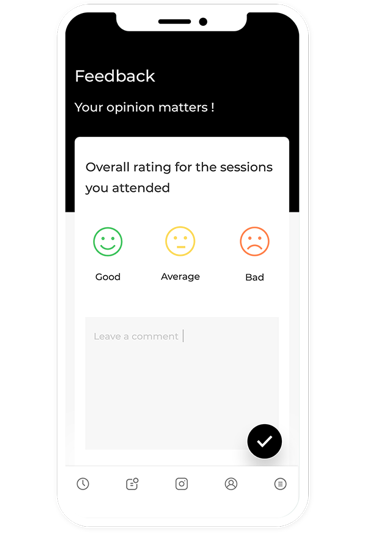 Incorporating the changes that people suggested is of paramount importance. The results of the polls and events must be put into immediate effect. When attendee suggestions are considered and incorporated, you can definitely invoke the other points mentioned below.
A. Adoption
Adoption is the number of people who actually attended the event as opposed to the number of people who downloaded the app. It is thus a pillar metric. The more adoption you enjoy, the better success you enjoy. And the number of people for the adoption rate gradually increases (especially if you conduct a superstar event) with each event. This is because people have now started to expect mobile event apps, it has become almost a part of the event.
B. Engagement
Engagement happens when someone opens the event app, and interacts with the content or network with each other within the app. Even event app dreams of achieving the maximum engagement with each new event. If you build a successful conference app, you can get the engagement to go really high. If you are successful in prompting people to attend the event, network with each other, add new content and prompt them to access it, you are encouraging engagement. It would also help in future event registration, ROI and other measurables.
Looking out for some of the best data collection data created specifically for events data?
Here are some data collection tools for event analytics
Build your own, of course - The advantage is that you get to write the code. The downside is that you may, knowingly or unknowingly, deviate from the core business.
Snowplow- It is an open source web, mobile, and event analytics platform. It boasts of a good ecosystem with technology and consultant partners.
Heap - A very reliable mobile and web analytics platform. It has a unique data collection tools list with its own warehouse.
Firebase - This is a real-time backend-as-a-service, and Google acquired it in 2014. It provides more features apart from real-time backend, such as crash reporting, push notifications, and analytics.
Conclusion
It is important to keep your audience captivated and, on their toes, to enjoy maximum levels of adoption and engagement. Using the above-mentioned tools, and learning to improve adoption and engagement will really help you set new benchmarks for your next event.