Ten Best Corporate Event Destinations in Asia
Undoubtedly, Asia is one of the top destinations in the world for events and conferences; and is ranked in the top 10. The continent registered an overall growth of about 5.6%, with China and India as the leading contributors. Asia has also risen to be one of the most demanded destinations for events as of 2019. Apart from Asia, other popular event spots are the United Kingdom, South Korea, and Peru. The popularity of a destination is analyzed by looking at the number of requests that they have received, and the number of venues booked/planned.
The availability of modern infrastructures and ease of access are two of the major reasons why Asia is popular among event planners. Now, let's look at some of the other common reasons that make these destinations the first choice among event planners.
Social and environmental sustainability for events
There are three pillars of sustainability: social factors, economic factors, and environmental factors. These factors are keenly observed by most of the above-mentioned destinations. Social sustainability happens when the stakeholders' interests are protected, while environmental sustainability happens when efforts are made to protect and sustain the environment (through energy consumption, use of organic materials, resource conservation and resource utilization), and finally, economic factors happen when there are innovation and ROI.
Excellent infrastructure and connectivity
Countries like China, Thailand, and Singapore have excellent infrastructure that would let you conduct events without any problems. Most of these destinations are located in a peaceful place or just within the city limits, making it easier for delegates to travel from the airport and back. Countries like Japan and India have invested in state of the art technology to attract more investors, and this is beginning to be paid off.
Highly rated facilities
Countries like Tokyo, Singapore and lately, China are growing impressively well in the hospitality sector. In terms of technology, they are really doing equally well.
Now, let's look at some of the top corporate event destinations in Asia:
Indonesia
Indonesia has immense potential and is one of the most sought after destinations for regional conferences. Stakeholders from startups and tech companies are planning to conduct events and share their journey, thanks to the country's diverse archipelago. Companies with regional ambition can focus on Indonesia because the market is currently very receptive. Bali is the most preferred place in Indonesia with more than 350 hotels fit for conferences and meetings. Grand Hyatt Bali, InterContinental Bali Resort, The Westin Resort Nusa Dua, The Seminyak Beach Resort and Spa are just a few of the most famous ones.
Thailand
Thailand is another favored destination for corporate events. The country is famous for its hospitality and the vibrant capital, Bangkok, is the most popular choice. The fact that there are several spectacular cultural and historical venues adds to the vibrant appeal of the city. The main conference and event spots are the Bangkok International Trade & Exhibition Center (BITEC) and the stunning Queen Sirkit National Convention Center (QSNCC).
India
India has a strong business culture and etiquette and that has been one of the major reasons why the country has been hugely successful in bringing international countries to its soil. Modern-day infrastructure, road, rail and airport connectivity, and India's ancient architectural heritage are other reasons. Mumbai, Chennai, Delhi, and Calcutta are some of the major cities where events and important meetings are always held. Bengaluru, Gujarat, Hyderabad and Goa are also popular among event planners. All these places offer incredible opportunities for networking with Indian entrepreneurs as well.
Singapore
With a highly-developed economy, Singapore is the most dynamic of all destinations in Asia. Singapore may be a small country, but there is nothing small about what this place offers. With impeccable scenic beauty, disciplined people, vibrant shopping districts, diverse cultures and cuisines from all over the world, people find themselves right at home here. They enjoy Singapore in the evenings to relax and unwind after official meetings and conferences.
Singapore EXPO (Image Source: Wikipedia)
Singapore is a thriving business district so the place always welcomes and promotes new entrepreneurs. Singapore EXPO was awarded the Best International Venue in 2016. Suntec Singapore Convention & Exhibition Centre and The Marina Bay Sands are other places where events are always conducted.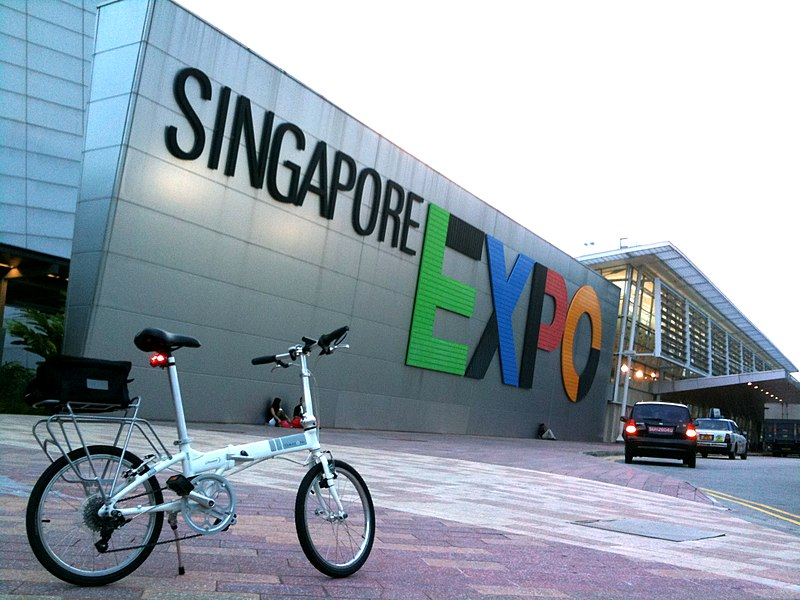 Philippines
Philippines has got great venues for all sizes of events, it is a growing commercial and business district. People from different ethnicities come here to do business, hold events and network. There are plenty of upscale neighborhoods and luxury hotels for them to stay for both long-term and short-term purposes. Makati in the Philippines is the most popularly chosen spot for events. Philippine International Convention Center (PICC) and The AIM Conference Center Manila (ACCM) are always booked and busy.
Japan
Japan is a dream for event planners with a choice ranging from contemporary luxury resorts to traditional meeting halls. Tokyo Big Sight International Exhibition Center is the largest convention center in Japan and a venue that's in high demand. Tokyo Conference Center Ariake, The Tokyo International Forum and Tokyo Conference Center Shinagawa are other popular spots.
China
China, especially, Shanghai is the main spot for event planners. The city also has a wealth of attractions, entertainment hubs, and activities that entice people to choose this destination for events. The city also has a magnificent public transport system comprising of buses and rail systems, so if you are targeting natives, you can expect a huge turnover. The iconic waterfront promenade known as The Bund is very often the first choice. The Shanghai World Expo Exhibition and Convention Center, featuring four exhibition halls and 11 meeting rooms is a major attraction in the city. The Shanghai Convention & Exhibition Center of International Sourcing and Shanghai Everbright Convention & Exhibition Center in Southwest Shanghai are other favored spots.
Malaysia
Malaysia is considered to be a major business and international events destination. The land, with its multi-cultural diversity and plethora of venues, is the most preferred place for both business and pleasure. Malaysia is famous for its huge skylines and colonial architecture. The traffic can be a bit hectic in Malaysia, but the city has efficient trains and rail systems. Malaysia has it's very own the world-class Kuala Lumpur Convention Centre in the city's Central Business District, Genting International Convention Centre, Matrade Exhibition & Convention Centre complex and the Sime Darby Convention Centre, near the KL Golf and Country Club for you to conduct events.
Hong Kong
Hong Kong is undoubtedly one of the biggest technological hubs in East Asia, and it is no wonder why the city is continuously booked for official events and conferences. Hong Kong possesses some of the best venues, fitted with state-of-the-art meeting facilities, impressive infrastructure and incredible transport systems. Kowloonbay International Trade & Exhibition Centre (KITEC), Bangkok International Trade & Exhibition Center (BITEC), The Ritz-Carlton Hong Kong and Four Seasons Hotel are just a few of the highly demanded venues.
South Korea
Seoul in South Korea is a top-rated destination for international conferences. The city has grown into a hub for modern technology and has been attracting the cream of events already. Accessibility, thanks to its two airports, is a major feature of Seoul. COEX Convention & Exhibition Center in the city is the largest in Asia, and it has several versatile venues that would easily suit your interest.
Conclusion
There is no doubt that Asia is transforming itself to be one of the perfect spots on the map for official events and conferences. Asia had also hosted the Olympic Games three times in a row and rose up to be the main destination for sporting events. Singapore and China are the main destinations for sports-based events.
Choosing a good venue for an event is tricky because you have to consider a number of factors (namely, accommodation, airport access, rail, road, and bus transport system, infrastructure, weather, culture and so on). It is not easy to combine all the factors and choose the perfect venue. However, the 10 destinations mentioned above are really good, and they have the caliber to help you host the perfect event. Modern, exotic and accessible, you can easily choose from among the top destinations to host an event.