How to Measure Event Success After an Event
1. Key Parameters in Measuring Success of Events
2. How do you know if your event was a success
3. Simple Parameters For Measuring Success Of Corporate Events
Everyone has conducted an event at some point of time in their life. It could be a small seminar in your college or it could be a huge corporate event where hundreds of companies participate. Do you judge the success of an event by counting the number of attendees? Is that all there is? Can you call an event a success just because you had the maximum attendance? Stay with us as we explore other aspects of measuring the success of an event.
Keeping an eye on the social media activity
Focus on the social media platforms where your attendees are likely to hang out. If the event is something your attendees are going to be all excited about, you can definitely see discussions about it on their social media feed. Monitor their activity closely before and after the event. You can see if the attendees are still talking about the event in a positive manner, using hashtags to share their views and so on.
Analyzing the ROI
Return on Investment for your event actually falls into a number of categories. For example, think about Brand Awareness. Brand Awareness is an intangible benefit earned from the event. It is thus difficult to measure too. But there is a rudimentary way to do that. How about checking the number of clicks and shares on Facebook right after the event? This would definitely be a good way to measure success. If you calculate the price of one single FB click to be at $0.75, and you have had about 1000 organic visits from Facebook, then you can calculate the benefit to be estimated at $750. This is just a sample, the real figures can blow you over.
Conducting surveys after the event
Of course, you would have thought of that too. This is one of the best and one of the oldest methods in the book. The experience will be fresh in the minds of the attendees, and you will definitely get an honest opinion from all of them. Rather than asking generalized questions, be specific in your questions, so you can use the same inputs while planning the next event.
Analyzing Revenue and Overhead Costs
The main purpose of a corporate event is to improve branding, bring new customers and additional revenue through that. You have to throw in some money to create branding, so put in your money to create a powerful event that attendees would talk about and remember forever. At the end of the event, you can analyze parameters like anticipated cost vs actual cost; anticipated revenue vs actual revenue; actual cost vs actual revenue.
It would also be helpful to analyze the efforts you took into conducting the event. For example, handling logistics, communication expenses with the speakers, promoting the event and so on.
Monitoring the figures for weeks after the event
Conducting surveys to understand attendee perception is good. But that should not be stopped after a few weeks. You must continue checking out, not just the sales numbers, but a number of other aspects like signing up for newsletters, sign-ups for trial services and so on. This should continue for weeks and months after the event because there are people who do sign up that late, they only need to make up their mind. It would also help you plan for the next event.
Asking attendees for a net promoter score
Net promoter score is all about asking the attendees whether they would promote the event to their friend/colleague/relative. Of course, you can argue that this falls under the "surveys" category, but the promoter score is so very important that it deserves its own rightful place in this list.
Ask your attendee, "On a scale of 0 to 10, how do you rate the event?" By their answers, you can actually predict whether you will have some loyal customers in the future. For example, if the attendee says 9 or 10, you can guarantee them to be your customer, but if they give you a rating of 5-6, you can be assured that they will jump ship anytime, or be vulnerable to the approaches of your competitor. The people who give you lower ratings, definitely think very less of you and can even smear your brand through negative reviews.
Optimizing the event app experience
Once you have a conference app, you can check the activity levels of the people within the app community. Check for their usage before, during and after the event. Check for the time they spend on the event app. Collecting similar information would be greatly helpful in analyzing the mobile app experience, optimizing it and finding ways to engage them more frequently.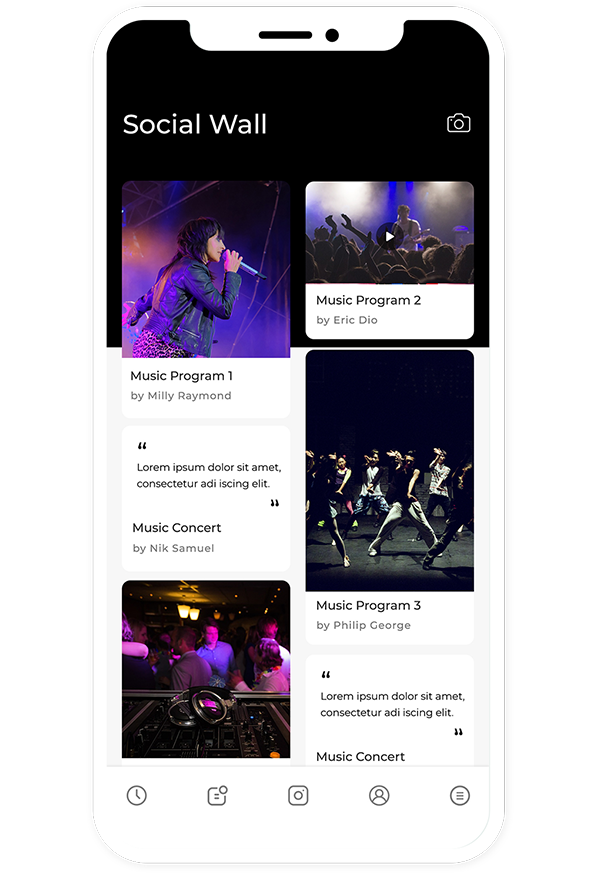 While measuring activity within the community, you can also monitor the frequency of messages attendees share with each other. Developing business relationships is one of the key parameters of the success of an event. People will be motivated to attend an event if they are sure they can foster new relationships.
Checking whether the attendees enjoyed the speakers
Event managers covet the best speakers to grace their event because having great people speaking at it is a huge success metric by itself. Attendees would come in from far and wide if you have good speakers on the platform. Provide them with ways to interact with the speakers and add surveys and live polling to generate additional interest. Having live polling sessions would help the event managers understand which sessions the people greatly enjoyed.
Conclusion
While these are the key metrics in which you can identify the success of your event, take care to develop event management apps before each event, big or small. This makes it easier for you to streamline the event for both yourself and for the attendees. Having an event conferencing app makes it easier for attendees to foster new relationships and maintain the ones they already have. You can use the app to conduct surveys and live polls, and gauge attendee satisfaction while the event is actually happening. It helps you to measure the success of your event accurately.