Simple Ways of Personalizing Your Attendees' Event Experience
Conducting an event is not the endgame at all, the success of events is measured in a lot of ways, and gauging the way how your attendees perceive it is one crucial aspect. Every event manager dreams of hosting an event that attendees will remember and enjoy, so they will spread the word. So, one of your goals would be to ensure that they have an informative, memorable experience right from the beginning to the end.
Luckily, with today's technological innovations, you do not have to struggle with different personalization techniques and their implementation. We have put together a list of simple strategies that would help you personalize the attendees' experience at your next event.
1. Customized registration can really get them interested
If you want to hook them right from the beginning, then you can start by where they will be impressed first - the registration. You can customize this part so they need to fill only what is relevant to them, relieving them of the burden of filling unrelated questions and divulging information they aren't keen to share. Different categories of people will be attending a particular event, so you can prepare a questionnaire that would be relevant to each category.
For example, if you are conducting a photography event where both professional and amateur photographers will be attending, you can have different sets of questions, instead of having a generic one. This would not only be appealing to the audience, but quite effective for the team managers too because they can understand the demographics of the people, and gain a better insight into their likes and dislikes.
Personalizing the registration really makes the attendees feel special. Just a simple address of 'Hello (Name)' gets them interested. This is because people are different - they think differently, they learn differently, and they even respond differently, so the event should be all about creating experiences they will not forget.
2. Targeted alerts can help you communicate with specific audiences
It is natural to send alerts and notifications to inform attendees about event updates. Quite often, these tidbits of information do not apply to all the attendees. So you can tailor the communication to a specific group and send them personalized messages. Communication becomes easy when you have an app for it.
This can be done by creating attendee groups where each of the participants fit (depending on their category and interest), followed by a personalized welcome message. You can send alerts for specific information that concerns each category, so they can read them when they open the app.
Emails are another way to communicate with your attendees. They are the most effective, and perhaps the most harmful too because if you lose your audience as a result of sending out too much information or wrong mails, then you lose the opportunity to personalize their event experience and interact with them. That is why the registration part is so important; that's where you get fruitful information about your attendees.
While alerts and emails are definitely good ways to communicate with the attendees, it is also important to remember the frequency in sending your message. An overload of messages could warranty an unsubscribe or uninstall, whereas infrequent communication could cause them to forget you. Space out the messages, keep the text to a minimum and use language that would drive the reader to your website.
3. Include attendees to contribute and be a part of the event
The best way to personalize the event would be to make them a part of the event. The feeling that they are contributing to the session would definitely keep them inspired. After all, who listens raptly to a session without looking at their mobile phones for even a second?
Engaging them through in-app questions could help attendees direct the course of the session; this would also be helpful to the speaker who knows what the audience is looking for. In-app questions and feedback are two major ways in which this can be done.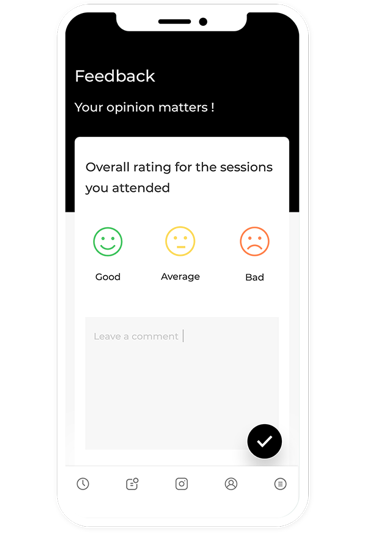 At the end of the event, you can provide the attendees with the content of the session, so they can save what they want to, and review it later. This makes the experience personal.
You can also provide them with an event schedule to help them pick the sessions they want to listen to. This lets them create their own personalized event schedule, and save time. It would also be useful for attendees to receive push notifications on sessions they might be interested in, based on the likes and interests they have filled out at the time of registration.
Since people are keen on social sharing, you can create an environment that lets them share their views on the event through hashtags or Snapchat filters. Letting them create a story through their own experience will make it really personal for them.
4. Make use of event app engagement features to engage them
A mobile event app is a great way to connect with your attendees and to engage them. If somebody shared the event schedule or a speaker's insightful message on social media, have a dedicated member of your team 'like' and 'comment' on the same.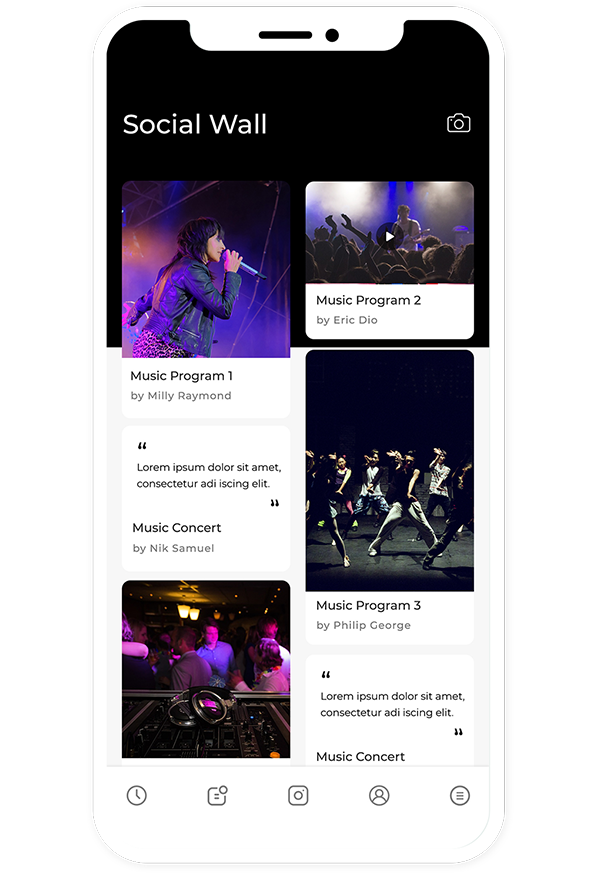 This goes for event group discussions as well. This way, not only the attendees, but the staff also would be participating in the event by sharing and commenting. And this, in turn, would motivate the attendees further, and inspire them to contribute.
When the attendees start using the event app and engage with each other, they not only gain new knowledge, but they also build networks and new connections. In fact, you can encourage them to use event apps right from the beginning of the event planning to crowdsource insight from them, and discuss content they would be interested in listening to.
5. Gamify the event app
Gamification can boost attendee engagement remarkably well. Try various online and offline games to give them an immersive experience. Of course, this would depend on the size of the event, and the budget, but you can also include sponsors or promoters, and set up video games that would really help pump up the show. If you have a big budget, you can also include some VR and AR elements in your event. These could be categorized into ice-breakers, networking games, feedback and polling and so on. This is one area where you can get really creative.
Conclusion
Leveraging the potential of an event app would be greatly useful in personalizing attendee experience. This increases their loyalty and their eagerness to attend future events. Once people start using the event apps, they start spreading the word, and nothing beats the power of word-of-mouth promotion of your event app.
If you are interested in making a difference with the best of event app technology, get in touch with us today!